Saturday night – air guitars, a dance-off and more!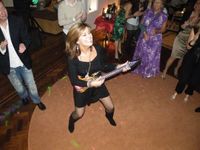 Hi Q-V-See-ers,
I had the most fun I'd had for years on Saturday night. We had friends round for a party with the best Thai food this side of Bangkok from my friend Nicky's restaurant, Thai Tho, in Wimbledon Village. Paul and I were celebrating our 17th wedding anniversary (and my birthday, again!).
We danced to all the disco hits of the Seventies and Eighties. The playlist was very cheesy and I take full responsibility for the predominance of Madonna and was given a real air guitar for my performance of Shania Twain's 'Man I feel like a woman' (see photo above). I was in my element and danced so much that my toes went through my fishnets and I ached like an old lady the next day!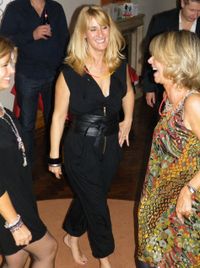 I felt that my husband took the dance competition between the girls and the boys a little too seriously, reminding the DJ on several occasions that it was he who was paying the bill!
The rivalry really hotted up with us all on the floor in two teams for 'Oops upside your Head' (see photo right), followed by a Conga. At this point DJ Mark announced that it was a tie and we needed a Dance Off to decide on the winning team.
Well, my goodness, everything from shameless shimmying, cartwheels, break dancing and (in)discreet flashing of lingerie (I'm not naming names) ensued. The decider was one of my friends from work who calmly strode into the middle of the dance floor and coolly went into the splits. Twice. I wonder if you can guess who it was from this list? Ali K, Claire, Dale, Julia, Anthony, Debbie Flint,or Pipa?
I want you to tell me who you think it was and why. Think carefully!
Love
Debbie x