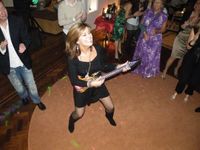 Hi Q-V-See-ers, I had the most fun I'd had for years on Saturday night. We had friends round for a party with the best Thai food this side of Bangkok from my friend Nicky's restaurant, Thai Tho, in Wimbledon Village. Paul and I were celebrating our 17th wedding anniversary (and my birthday, again!). We danced […]
Continue Reading...
Welcome to WordPress. This is your first post. Edit or delete it, then start blogging!
Continue Reading...
The only thing worse than getting older is the alternative. Yet however logical this is, when a big birthday is hovering on the horizon like impending doom, you can't help but wish you were Benjamin Button, with aches and pains, age spots, muffin tops, and senior moments melting away with the years. Between you and […]
Continue Reading...